STATISTICS
of American teens have an app that would allow predators to reach them without anyone knowing
learn more
SaferKid alerts you if your child downloads any of 200,000 apps of concern
Get alerts when SaferKid detects:
Ways to secretly meet strangers
Sexting Risks
Age-Inappropriate Violence
Bullying Risks
Get What You Need to Parent

Our app rating system was developed after extensive research into what the real app risks are, and what you need to know.

learn more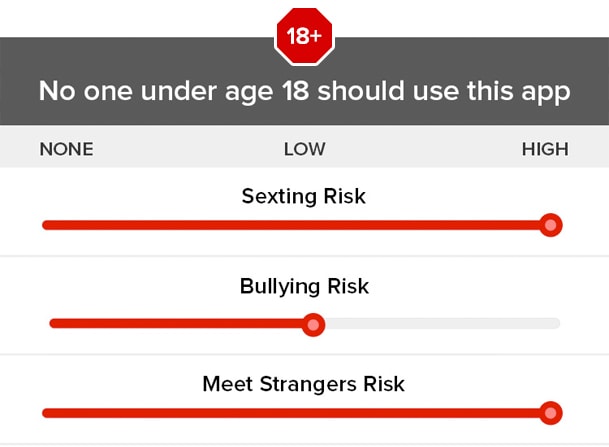 Our reviews include possible developmental risks, links to parent's guides and tips on how to talk to your children about the apps.
Sign Up
What We Do
We scour apps looking for dangerous risks that parents would want to know about. We already have 200,000 apps in our database, and like an anti-virus company, we are always learning as systems out there change and as new apps are released.
As we keep an eye out for new threats, we also monitor what's on your child's device and let you know if we find something. If we do, we send you the details of the app and why it's a concern, including parent's guides with developmental information you may need for the situation.
What We Don't Do
We don't compromise the trust between you and your child. As a result, we don't spy on what they do inside of apps.
We also can't provide 100% protection for every child. Nothing can. But we do cover over 200,000 apps, and we add more every week. So, we're pretty far ahead of the game :)
What You Do
At the right moment in time, your job is to parent. You check the alert, read the quick summary and info, and then sit down and have a talk with your child.
You also need to set up SaferKid on your child's device. It's very easy, and we have step-by-step instructions to help you through it.
Protection Is a 3 Step Process
1

Enter each child's name and birthdate for age-specific coverage.

2

Follow the set-up guide to connect any iOS or Android device. This enables remote monitoring.

3

If we find a risky app, we'll send an alert with the info you need to understand the concern and how to step in and parent.
SaferKid cannot be disabled without parent's knowledge (on iOS) or consent (on Android).